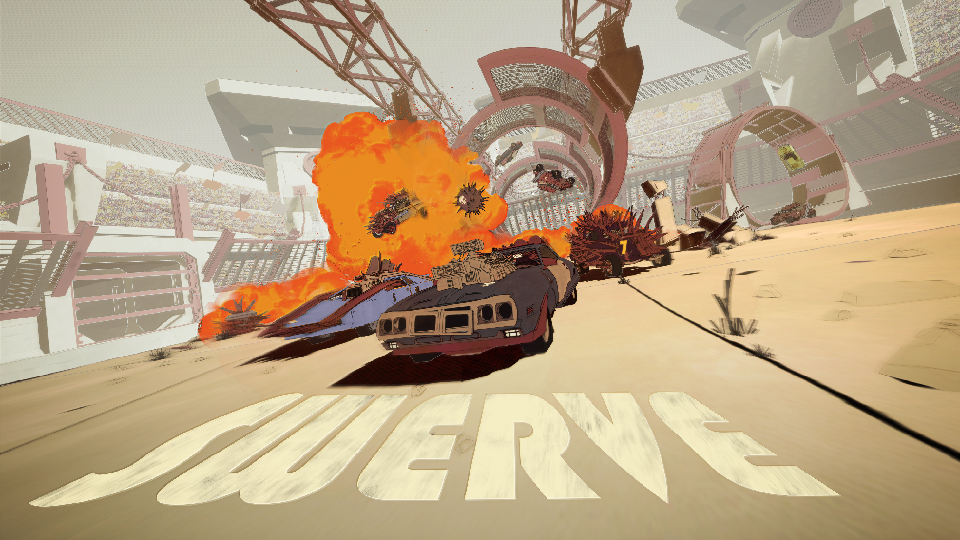 Swerve
A downloadable game for Windows
Controls

WSAD - Drive
Spacebar - Jump
Left Shift - Dash
Ctrl - Handbrake
E - Bomb drop
Tab - Rear-view
T - Flip car if upside-down
P - Pause menu/options
Escape - Menu


Unfortunately, all those TV shows and movies we made about the end of the world were right about one thing- without laws, man reverts to his base nature.
After the literal dust settled, the ruling class went back to their old ways - pitting the lower classes against one another as entertainment. The richest and most wicked of them - The Baron - has sponsored a demolition derby style gorefest - and you're a contestant.
The rules are simple: Drive too slowly or cause no mayhem, and The Baron detonates a bomb in your car. Last person alive wins and gets to go home. And don't forget, this is supposed to be entertaining. Make sure you put on a show.

Dermott - Art director/3d modeling/environment art/level design / Tech art
El Fideo Rubio - UI programming, AI programming, gameplay programming
Blackfire - 3d modelling
Midule - music
Curly - music
StoneTapeStudios - sound design/implementation/sound fx
Andy - sound fx
Chris Campbell "Foxotic" - playtesting/game design
Terry - Gameplay programming, UI programming, Playtesting
1rival - code
Jerry - code
scriptorious - code/production
cokyfish - character concept art
davicini - graphic design/ui
raul - animation/rigging
Kashdan - voice acting

| | |
| --- | --- |
| Updated | 25 days ago |
| Status | Released |
| Platforms | Windows |
| Rating | |
| Authors | scriptorious, DermottB, cokyfish, andyh706, Midrule, TK Game Dev, andredoesstuff, 1Rival, StoneTapeStudios, CurlyBoi01, Blackfire49, foxotic, tigerija, KashdanMusic, El fideo rubio |
| Genre | Survival |
| Tags | Casual, Comics, Driving |
Comments
Log in with itch.io to leave a comment.
I love the look of this! Awesome comic book-like art direction, and you pulled it off well in realtime.